General information
Ghent Centre for Digital Humanities, Quetelet Center for Quantitative Historical Research and Antwerp Cultural Heritage Sciences in collaboration with the Lancaster University Digital Humanities Centre and Digital Humanities Lab, Universidade NOVA de Lisboa are delighted to announce that the 4th Spatial Humanities conference will be held in Ghent on 7th - 9th September 2022 at the conference centre Het Pand, organised by CLARIAH-VL with the support of the DARIAH-EU GeoHumanities working group. Spatial Humanities 2022 is concerned with geospatial technologies, such as Geographical Information Systems (GIS), and what they have to contribute to humanities research. The main aim is to explore and demonstrate the contributions to knowledge enabled by these technologies, approaches and methods within and beyond the digital humanities.  
Spatial Humanities 2022 will welcome submissions on all aspects of using geospatial technologies in humanities research, methodological innovations, and applied research that develops our understanding of the geographies of the past. These include, but are not limited to, urban gazetteers, artificial intelligence, geographical analysis of text and image, database development, linked open data, IIIF applications for maps and spatial data, metadata and the development of sustainable data workflows.
We welcome contributions from anyone working on computational approaches to spatial questions in the humanities. These disciplines include, but are not limited to, history (including fields from social history such as historical demography and environmental history), archaeology, literary studies, classics, linguistics, art history, anthropology and religious studies, as well as from interdisciplinary and/or technical fields including GISc, digital humanities, computational linguistics and computer science. 
Registrations
Registrations for Spatial Humanities 2022 are currently open! You can register here. The conference will be held hybrid comprising an online and in-person part. The conference fees are the following:
In-person full fee: €150
In-person reduced fee (students): €100
Online full fee: €100
Online reduced fee (students): €50
The people attending the conference in person can optionally attend a social dinner on the 8th of September for an additional fee of €50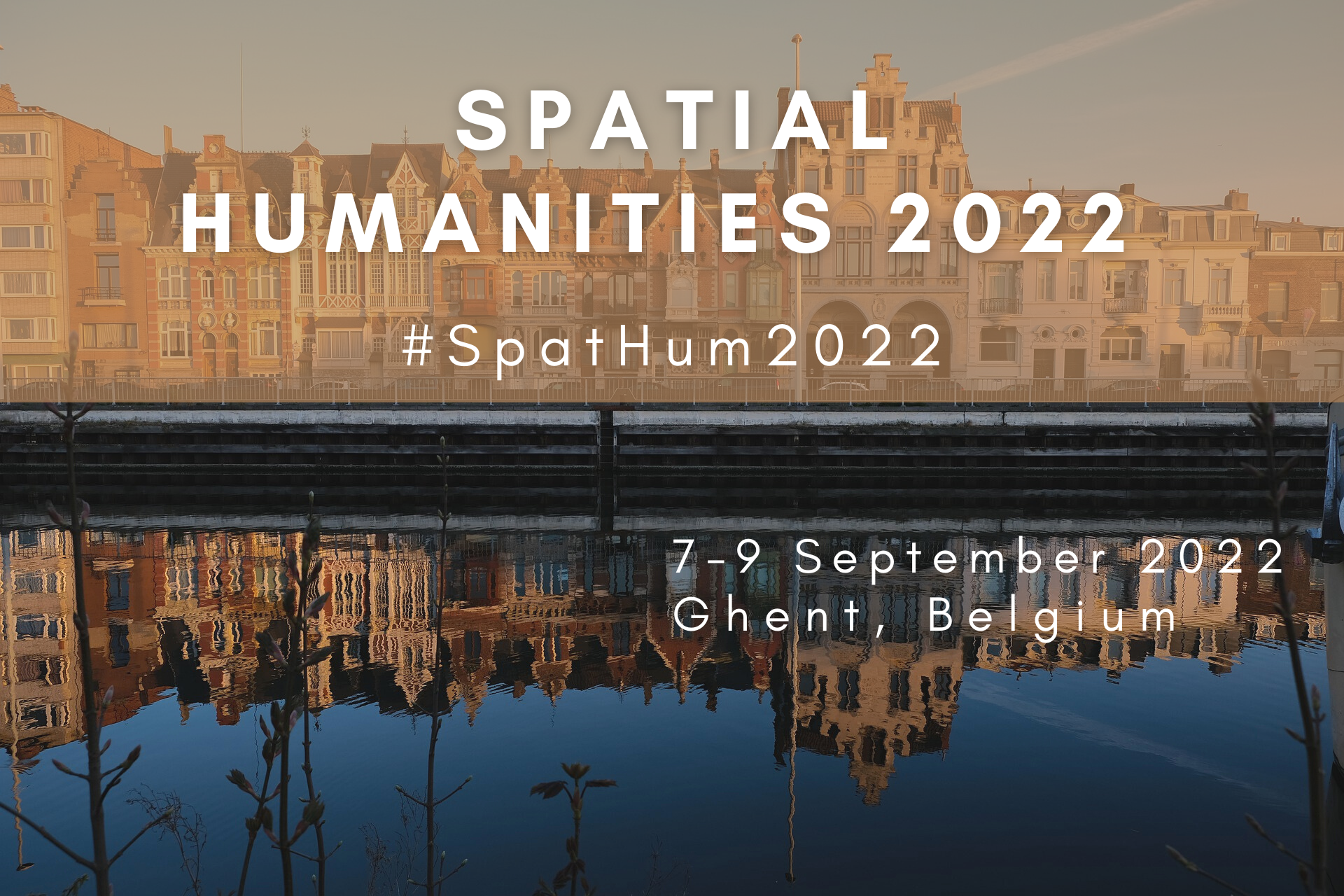 Call for Papers
The Call for Papers is closed.
Keynote speakers
We are pleased to confirm the presence of Prof. dr. Timothy Ingold and Prof. dr. Veronica Della Dora as keynote speakers at Spatial Humanities 2022. 
Organisation Committee:
Daniel Alves, Digital Humanities Lab, NOVA-FCSH, Universidade Nova de Lisboa

Sally Chambers, GhentCDH, UGent 

Isabelle Devos, Quetelet Centre, UGent

Vincent Ducatteeuw, GhentCDH, UGent

Lise Foket, GhentCDH, UGent

Ian Gregory, Lancaster University Digital Humanities Centre

Piraye Hacigüzeller, ARCHES, University of Antwerp

Patricia Murrieta-Flores, Lancaster University Digital Humanities Centre

Joana Vieira Paulino, Digital Humanities Lab, Universidade Nova de Lisboa

Christophe Verbruggen, GhentCDH, UGent